In a statement given to 
Demand Gen Report
, Pierre Custeau, VP, product management, Oracle Eloqua had this to say about marketer problems, "As customer expectations continue to evolve, marketers are facing more pressure than ever to deliver the consistent and connected experiences needed to drive sales and strengthen brand and customer loyalty." In answer to this problem, on September 26th, 2018, Oracle announced a series of updates to Oracle Eloqua which will help marketers, efficiently and easily; communicate with their prospects and customers. They introduced new content creation, sales tools, and auditing capabilities with the main aim of streamlining marketing and sales processes and boosting conversion rates. Custeau added, "To help our customers meet these increasing expectations, we are focused on delivering innovations within Eloqua that bring efficiency and creativity to the way marketers work. With the addition of powerful new content creation, sales tools, and auditing capabilities, we are continuing to set the industry standard for marketing automation."
What is Eloqua
For the minority who are not aware of what Eloqua is, Eloqua is a Software as a Service (SaaS) platform for marketing automation that is offered by Oracle and that manages marketing campaigns and sales lead generation for B2B marketers and organizations. Eloqua is responsible for sending marketing advertisements to mobile devices, email, video, and search results pages. Through integration with Demandbase, Eloqua offers Account-Based Marketing capabilities. Eloqua promises an increase in conversion rates, sales and customer understanding. They store information like company, job title, name, address, email and phone of tracked customers and prospects in its database for analysis.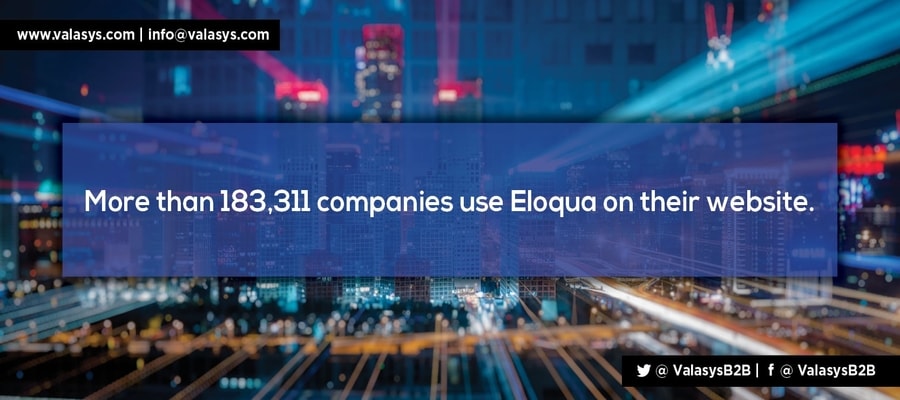 Advantages of new updates
The new developments to Oracle Eloqua empower customers to:
Create compelling and creative landing pages in a quick and efficient manner
A new 
Landing Page Editor
 enables marketers to build intuitive landing pages without the need to work with code. To further increase efficiency and spark creativity, it also provides an enhanced guided experience with more interactive elements. Responsive landing pages that feature image carousels with rotating images and video backgrounds can be built by marketers without needing technical expertise or outside agency support.
Restructure and enhance the sales process
Sales teams can access rich buyer insights, relevant content and even track emails sent to prospects through the New Eloqua Sales Tools for Microsoft Outlook without even leaving their email platform of choice. This new integration with Microsoft Outlook also provides seamless and consistent experiences for sales teams that work across a variety of platforms and devices by enabling users to access Eloqua Engage and Eloqua Profiler with ease.
Enhance security, tracking, and auditing capabilities
The security and tracking capabilities within Eloqua further enhances the new comprehensive logging and auditing procedure for all major accounts. The new auditing capabilities ensure that sensitive data that exists within Eloqua is protected against unauthorized usage and permit users to obtain login history insights, detailed audit insights and enhanced audit reporting. This also includes the ability to export audit logs for up to 25 months in CSV and XLS format. Pierre Custeau is optimistic about the new updates and stated that "With the addition of powerful new content creation, sales tools and auditing capabilities for Eloqua, we're not only bringing efficiency and creativity to the way marketers work but also enabling them to meet these increasing customer expectations."